This morning I woke up and had a bit of a craving for Scones.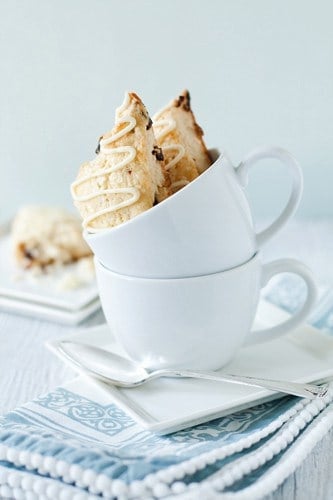 3 cups all-purpose flour
1 cup sugar
1 tablespoon baking powder
1 lemon, zested
Pinch salt
1/2 teaspoon ground cinnamon
1 1/2 sticks cold butter, cut into pea size pieces
1 cup dried cherries
1/2 cup toasted sliced almonds
1/2 cup heavy cream
Turbinado sugar, for garnishing
Honey Butter, recipe follows
Directions
Preheat oven to 375 degrees F.
Honey Butter:
1/2 pint cold heavy cream
2 tablespoons honey
1 orange, zested
In a stand
mixer
fitted with the
whisk
attachment, add all ingredients and
whip
on high speed until the cream starts to clump and turn light yellow. Continue mixing as butter forms and the buttermilk begins to separate out. Scrape sides and continue mixing until mixture is one lump of butter. Place butter into a clean container or serving dish and store in the refrigerator until ready to use.
I got the recipe for the Food Network.
Here are a few photos of the cherry scones I made for Sunday breakfast.
I tweaked the recipe a bit....instead of making a disc I just made individual biscuits.
Fresh out of the oven.
I thought the honey butter was a great idea but I was in the mood for a lemon
glaze.... a bit of powder sugar mixed in with lemon juice was perfect.
Happy Baking.
Thank you Food Addiction for the wonderful photo.